By Brae:
Even though we've already explained to you about some great things we did in Minca, we have not told you about all of it yet. There was too much fun stuff to tell you in only one go, so here are a few other things we did there that we haven't mentioned yet.
In Colombia, it is so hot that you can grow things that you can't grow in England, like chocolate!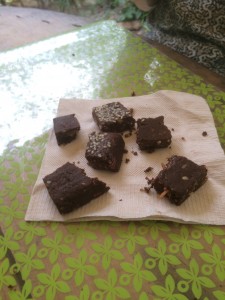 When we were in Minca we went to have lunch one day. It was kind of a restaurant but it was really just two small tables in the garden of someone's house in the middle of nowhere. We had some yummy food that the family who lived there made and we bought a necklace, to give to our little cousin, that the daughter of the family had made out of clay. For pudding we had some fresh chocolate and the lady showed us that it grew from her cocoa tree in the back garden. The case of the chocolate (called a cocoa pod) is green instead of brown like I imagined it. Here is a picture of one if you do not believe me. The chocolate tree had bags over the pods so the squirrels did not eat them.
Another thing I remember from Minca is when we were finishing one of our tours Niall said he knew a nice place for lunch and our minds changed to a nice air conditioned room with walls to escape the boiling temperature.
We were all taken by a big surprise when we arrived.
We were staring at a little shelter with no walls. There were four wooden tables with wooden benches, and one of the tables had huge chunks of ribs laid across it. There was no proper bathroom as it was just a bucket of water for washing your hands. Also, there was a little oven made of bricks with all sorts of meat being cooked. The floor was just made of mud and lots of stray chickens, dogs and cats were wandering around all over the place.
The owner was really nice and he started to cut up the cooked ribs and said we were allowed to try some for free! It was really tasty so I had some ribs just like that for lunch as I liked it so much. As you can see, restaurants in Colombia are very different to ones in England! But we had a really nice meal with Niall and our new friends Sarah, John, Karen and Darren and they had beer and fizzy drinks too so everyone was happy.
When we got back to Niall's house,
we were looking out of our balcony and in the distance my mum and dad were quite surprised to see Oren wielding a machete around, cutting off a bunch of bananas. Most grown ups don't give you a massive machete and ask you to chop through the jungle but Niall isn't like a normal boring grown up! Of course I thought it looked fun so I ran out there to have a go too!
So you can tell how many amazing memories we have of Minca, so you might not be surprised that before we go back to England, we would really like to go back there and do another tour with Niall where you cover yourself in mud and wash it off in a waterfall. So this might not be last you hear about Minca so stand by!
You can read the original post here