By Oren:
One of the foods we didn't try during our trip was a delicacy that they eat in some parts of Colombia that we only found out about when we got back. The dish is fat bottomed ants! We didn't try this but when I read about it today it reminded me that we spent lots of time looking at live ants in Parque Tayrona and other places in Colombia. In Tayrona there were loads of enormous termite nests and ant colonies around the place we were staying and there were millions of red ants in each one! Brae and I spent a long time watching them and we saw where they went to get food, how they cut up the leaves and where they lived. They had cleared little pathways in the undergrowth in between their food source and their nest and we spent time following their paths. We made a film of their activities (and at the end you can see a glimpse of the amazing Blue Morpho butterfly we saw, but they were very difficult to film).
When we were in Tayrona we walked for hours every day to see the wildlife and we watched the birds and mammals mostly, but when we couldn't see any we were happy to watch the bugs. One example is that when we went to get our breakfast one day we saw a praying mantis!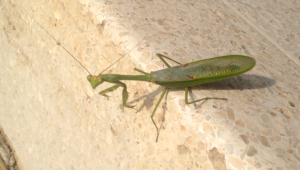 It was really cool because I didn't think we were going to see one and I have read a lot about them. They are the predators of the insect world, so I guess that makes them the insect equivalent of a lion or a shark! We also saw, on our morning walk, a dung beetle rolling dung to its house, but it kept on going round in circles!
Lots of people don't like bugs so they probably wouldn't have enjoyed the insects, spiders and lizards that filled our cabin at night! We tried to tell ourselves that we had to get used to it because we were in the middle of a jungle and the insects lived there and we were their guests.