Welcome back to the Everetts In Colombia blog! We have returned to this amazing country, over 2 years after our original family adventure.
By Brae and Oren:
After a long day of travelling we finally arrived at our old apartment in Rodadero, near Santa Marta, Colombia. As we walked into the building we were greeted  warmly by the 'portero', as if we were long lost friends. We were so happy to see him too and it felt so great to be back.  Just then, it started raining. We were pretty surprised because we don't think we saw a single drop of rain during the months that we lived here, two years ago. We thought it would stop quickly but we were very wrong.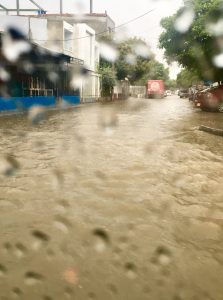 We already had plans for our first day, so before long we set out to do a tour with our Colombian charity friends. We took a taxi into Santa Marta (our local city) and the rain just kept falling. As the water flowed in rivers down from the hillsides, and swirled around the taxi, with thunder and lightening crashing around us, we were starting to get a bit worried. Dad spotted a teenage boy, taking a shower in the street, using the water that was streaming off one of the roofs, overflowing out of the end of a gutter. Then the taxi driver said that he couldn't take us any further because the water was just too deep and his taxi would flood.
When we got out, we still hadn't got to the place where we were meeting our friends, so we bravely tried to continue our journey on foot.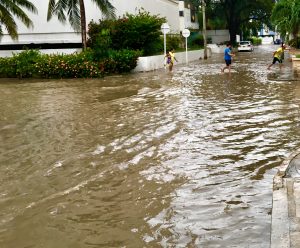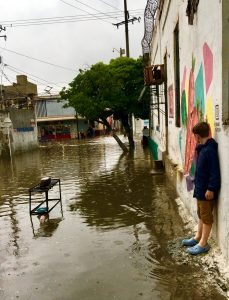 Sometimes we had to turn back and try a different route, when the water got too deep, but we didn't give up easily and eventually we got to a place where we could almost see the cafe we were heading to. But disaster, the water on these final few streets was waist deep and fast flowing and it was just too dangerous to go any further. Also, at this moment, Oren suddenly noticed
bugs crawling along the walls on the other side of the road. We looked some more and discovered that loads of 'cucarachas' (cockroaches) had made a home on the side of someone's house. They had fled there in search of dry land as their usual hiding places were under water. It was disgusting!
I should mention that even though it was raining and we were drenched from head to toe, it was very, very, very, hot.
We reluctantly decided to head back to Rodadero, and give up on our mission for that day. To cheer ourselves up we had our favourite Colombian  ice cream flavours (maracuyá and arequipe) for lunch. We didn't mind about not having a proper lunch because we had already had some Colombian food at the airport at three o' clock in the morning while we waited for our connecting plane: buñuelos, palitos de queso, pan de bono, arepa de queso…..yuuuummmmm!
We really enjoyed our first day and the apartment feels like a second home even though it's extremely different from our Norfolk home. Today's adventure felt like just the beginning of a long line of adventures to come over the next month.