By Oren:
When we were last in Colombia you might know that we spent a lot of time with a charity called Tiempo de Juego. This charity helps children who live in a really poor neighbourhood called La Lucha. They go to school in the mornings but there is no school in the afternoon so they have nowhere to go. This has led to some children wandering around the streets alone, vulnerable to dangers in their neighbourhood. Without role models to teach them how to get along with each other (because the adults are at work), the children sometimes get into fights and other kinds of trouble. When we were in Colombia before, the charity had set up a football club after school on Wednesday for children to go to, and we went along every week too to spend time with them. During the fun football session, the teachers also talked to the children about how to get along and how to behave and they helped them to learn life skills. At the end of our stay we tried to help out by giving the children shoes.  The person who was running the foundation in La Lucha always told us that her dream for the charity was to have their own building where children could go to every day, not just once a week, to do homework on the computers she hoped to install there, and to have a safe place with adults who can teach them and care for them.
My mum had kept in touch with the leaders and a year ago they told us that they had finally managed to get a building – they were so happy! Then a few months later they told us they had moved to a new building because the first one was too near to the busy road and dust was getting in; it was very noisy and smelled of petrol from the cars. They told us the building they had moved into was so much better – it had computers for doing homework and research and they were running sport, music and dance classes for children.  They called it 'El Sede': the headquarters. We were all very proud that such a small charity had managed to achieve their dreams of helping the children in La Lucha.
Maybe because of the word 'headquarters', my mum had imagined quite a fancy place and we were all so excited to go there. As we made plans to visit, the new manager there sent us a picture of the building to help us find it. This is what she sent us: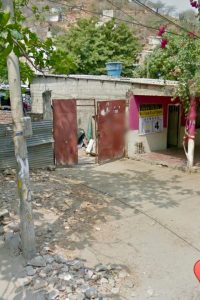 It wasn't really what we were expecting, but after we visited and had spent some time learning about what they do there, we soon agreed that it was a headquarters to be proud of. When we went through the rusty metal door there was a courtyard with plants at the front and a room at the back with computers, a fridge for keeping food and drinks fresh, a cupboard with musical instruments and sport equipment and a filing cabinet to keep information about the charity and the children. In the courtyard there were some stairs that led up to a room upstairs which was where they had their dance and music classes. There was also a tiny room for counselling as some of the children had had very bad experiences. It was a bit basic in many ways but it had just what they needed.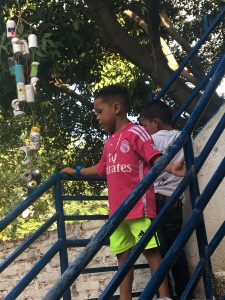 At the 'sede' we met one of the charity's managers, Anja, and two of the older children in the foundation who were 'monitores'. These are the children who have shown themselves to be role models during classes and so they are promoted and asked to help the teachers to run activities. The monitores were going to give us a tour of the neighbourhood. Anja told us that she had asked four monitores to do the tour with us but that only two turned up on time. She said that she always had to book more monitores than she needed because she knew that some wouldn't come. 
Although the monitores are some of the best kids in the neighbourhood, some of them are still learning about respecting their responsibilities and being on time! The two that came were called Mateo and Onehis and they were great. Mateo is at university and we knew Onehis from when we lived here before so it was great to see him again and know that he is doing so well! They took us out into the neighbourhood of La Lucha. Some younger kids from Tiempo de Juego decided to come along too as they were really excited to see English visitors to their neighbourhood.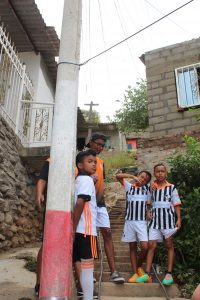 As we walked, one of the first things I noticed was pipes all across the dirt floor of the streets.
Anja said that they were pipes bringing water to the houses. La Lucha is set on  the side of a mountain and the people have just built houses there out of things they have found on the street. There are no pipes underground or proper bathrooms or kitchens, so they need pipes to get the water to the houses. Mateo and Onehis then explained that the neighbourhood only gets water two or three times every month so the people living there have to make the most of the water when it comes. Everyone was washing their clothes that day and it made me think what things would be like if you could only wash clothes or wash yourself properly a few times a month!
We started to climb a hill with the younger children running off ahead.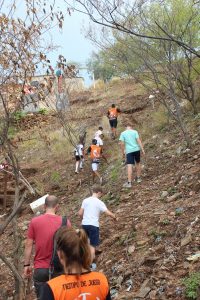 They were very small but they had a lot of confidence and we were told that they were especially keen to come because they weren't usually allowed up the hill on their own as it was quite dangerous.  One of the funniest thing was when they found out that Brae could floss and they spent a long time flossing with him, trying to see who was the fastest!
One of the houses at the top of the hill was made out of only tyres and other recycled materials. 
We asked who lived there and Onehis said that people from Venezuela had recently built it -there were 15 people all living there. He then explained that because of the hyper inflation and other problems in Venezuela, many people had left the country because they can't afford to feed themselves. More than one million Venezuelans had arrived in Colombia in the last year and many were sleeping on the streets of Santa Marta. Some people did not welcome them, but people from La Lucha had seen them there and said 'Why don't you come and build a house in our neighbourhood instead of living on the street? We have room on the hill.' So lots of Venezuelans have come to La Lucha since we were last there. I think the people of La Lucha had probably welcomed them like this because they knew what it was like to be without anything.
From the top of hill we had an amazing view of the sea in one direction and 'La Sierra Nevada de Santa Marta' mountains in the other.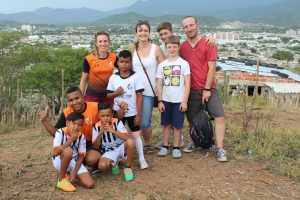 Where we were standing, the mountains and the sea were closer together than any other point along the coast of Colombia so it was a special view and you could tell that Mateo and Onehis were really proud and thought it was very beautiful. On the way back down the mountain we encountered a dog which was straying away from its owner and when we got close it growled and bared its teeth at us! Luckily Onehis knew what to do and he scared it off with some rocks and bark.
The tour was fascinating. We are very thankful to Mateo, Onehis and Anja for helping us to better understand the neighbourhood that the kids we have seen progress so much grew up in. Selling tickets for the tour was such a great way for the children themselves to earn money for the foundation and it was also great experience for the monitores to have the responsibility to teach people about la Lucha.
It was amazing to see how much the charity had progressed and expanded since we gave out shoes to the children last time, and it was incredible to see something we care about growing so much.