By Brae:
On Thursday, we went to the most spectacular beach we've ever been to. The water was so clear and every shade of blue that I've ever even imagined.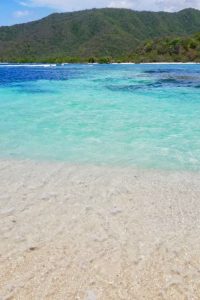 When we got up that day, we thought we were going to go to a beach called Playa Cristal. This is an amazing beach inside the Tayrona National Park that we had never been to. Our friend Alexander (who took us to see the howler monkeys the last time we were in Colombia) said he would help us to get there, because you can only get there by boat. Alexander, his wife Monica and their three children – Pacho, Maria and Samuel – piled into the 4×4 with us and we set off (9 people in 6 seats!). On the way there, Alexander told us he had an idea about changing our plans. He said that he knew someone who would take us to a different beach, that was not open to the public. He told us that it was a very special beach – the prettiest in Colombia – and he'd only ever taken 2 other people there before. Even his own family very rarely go there so it was going to be a treat for all of us. My mum thought that maybe he was telling us this to make us feel special and maybe it wouldn't be so unique when we got there. We went into the national park and drove along a really bumpy road until we arrived at a deserted beach. Alexander walked down the beach to talk to his friend and soon we all hopped into his boat and sped off. To get to our destination, we went out round a peninsula into open sea with quite rough waves and I thought we were going to capsize but our awesomely-skilled 'lanchero' (boat driver) got us back into the next cove in one piece.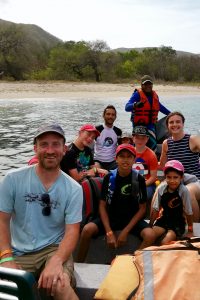 As the boat pulled into the beach I looked around and there was absolutely nobody for miles around. The water was unbelievably clear, full of fish and really warm. The first thing we did was run into the sea for a swim before we went free diving. When we swam out to the reef we saw red, orange, white, green and yellow coral and so many fish including a puffer fish, a metre long fish and fish of all colours. We stayed at the beach all day and never saw another person. We had an adventure walking to a salt lake that the local tribe use – they swap salt for food with other tribes. This is one reason why Alexander doesn't bring people here as it is a very special place for the local tribe. We made sure we took care of the beach well and we collected some plastic that had been washed up there from the sea and took it home with us.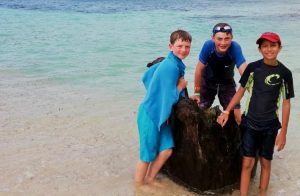 Oren and I played with my ball that bounces on water with Alexander's oldest son Pacho. He is the same age as Oren but the same height as me. Everywhere we go people can't believe that Oren is 12 when they see how tall he is! They think that England is a land of giants!
It was really nice to share this amazing day with a Colombian family. They were all so kind and at the end of the day Pacho asked if we could come into his house to play but we were too tired because of the jet lag (on our body clock it was 1am). They also asked if we could go camping with them and maybe this weekend we will go round to their house for dinner and to play.