By Brae:
This holiday, we are only spending one week in Santa Marta (instead of over two months like last time). That means that we tried to spend as much time as possible with the charity over these days, but sadly, the time has already come to say goodbye. This will be the second and last post about La Lucha.
As well as the 'sede' that Oren told you about, one of the major improvements in La Lucha is that they now have their own 'cancha'. A cancha is a kind of football pitch that can be used for other sports as well, like basketball. Next to the one in La Lucha they have some playground equipment for little ones too. A few years ago the kids used to go to a 'cancha' in another neighbourhood nearby for their lessons, but they kept getting into really bad fights with the local kids about who should play there. So, to avoid injuries they decided to do their training in the street in their own neighbourhood and that is where we always used to play with them. You might remember the videos of our sports lessons on the dirt road. Occasionally, a car or a motorbike would drive right through the lesson and we'd have to get out of the way, which was sometimes annoying if we were in the middle of an activity or game of football. Last year, La Lucha finally got their own cancha which was a huge boost for the whole neighbourhood. One thing you should know is that La Lucha is on the edge of a huge motorway and the 'cancha' is right by the road. If the ball goes over the tall bars in the wrong direction it could end up in front of a speeding car or motorbike!
It also means that when you're playing there, it is really loud and you have to shout for people to hear you. The buses and lorries make lots of clouds of dust as well as noise. But still, for the people who live there, they don't care and they think it's amazing and they are really proud. Everyone goes there in the evening and sits around and they call it 'el parque' (the park).
On Friday, we were invited to try out a sports lesson for all the kids aged 8-12. Even though the tour was really good, it was really nice for me just to be playing with the kids again and feel like part of the group.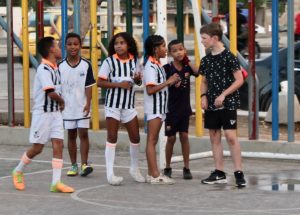 During the training, I was made captain of my group and the 'monitores' told me all the rules of the game, and then I had to explain all the rules to my teammates – in Spanish of course!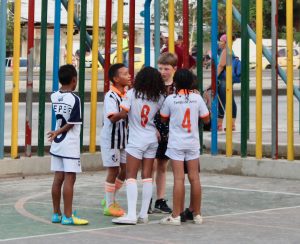 All of my group had loads of detailed questions about the game so I kept having to go back and ask for more explanations of what to do in different situations. We played different games for 2 hours and meanwhile it got really dark. Whenever we weren't in the middle of a game, the kids were asking me and Oren questions about England and especially about football teams. The time went so quickly I was disappointed when it finished.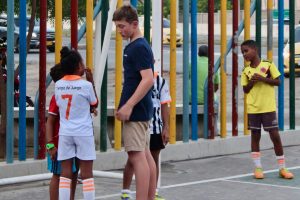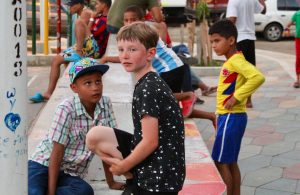 While we are here, we wanted to get some stuff for the foundation. First, we brought them lots of sports clothes from home – all the things that Oren and I have grown out of, and we also asked all our cousins for any football kits and ended up with a whole suitcase full of clothes. When we took the clothes to the sede lots of kids started rummaging through the bag searching for their favourite teams' kit. Most of them seemed to prefer Barcelona and Real Madrid, and luckily we had lots of Barcelona kits because our cousin Luke supports Barcelona.
As well as this, we wanted to find out when we got here what they really needed. We realised that a lot of their sports equipment had been broken so Anja told us that it would be great if we could buy them some hula hoops and skipping ropes that could be used in training. These were really popular, especially the skipping ropes as I don't think they had these before.
Although I never forgot about La Lucha when we were back in England, it didn't seem quite as real when we were so far away. But going back there has really reminded me how much they have to go through every day. All the kids are really happy about the sede and la cancha and I'm really happy that they have them because it really helps them in their very difficult environment.
Seeing everyone again made me really proud of the fundraising we have done at Colby school over the last 2 and a half years. On the day of the England vs Colombia football match we made arepas and sold Colombian food at break time for a fundraiser, and everyone who bought something should feel like their money went to a good cause. And In October-November last year we did a 30-Day No Sugar challenge (including halloween!) and lots of our friends and family sponsored us and we gave all the money to the Colombian charity and we raised over 1,000 pounds. Thank you to everyone who has helped us. And we're definitely going to keep fundraising!