By Oren and Brae:
One of the most amazing things about our first week in Colombia is that all of the days out we have done have been with old friends that we met when we were last here. Because we were here for two months we made lots of good friends, and this time we arranged to meet up with them when we were doing activities, which was so much more fun and made us feel more at home straight away. It also helped that we were treated like VIPs by our friends, and we got to do things with them that we never would have discovered on our own (like Chengue beach)!
As some of you may know, last time we went to Colombia we arranged a trip to go free diving with our friend Maryline and her boyfriend Camilo. Maryline has now moved to Portugal but we still managed to get in touch with Camilo and his cousin Jose. Last time we went diving at a beach called 'Playa Blanca' and we liked it so much that we decided to go again.
We had to meet up with Jose and Camilo early so we could dive before any other people got to the beach. We had to wake up at five o'clock in the morning and I wasn't very pleased when I had to get up.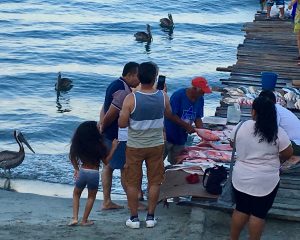 We met them by a little pier where the fishermen were selling their catch. Jose said that we were going to walk over the mountain to get to the beach (last time we took a boat). We were all a bit tired but we wanted to get to the beach before anyone else so we set off.
As the sun was coming up, and we started climbing the hill, Jose said that he was surprised that we walked so quickly because when he had taken some friends from university with him they had been crying and praying on their knees for God to save them at the point we were at, but we weren't even tired!
Soon we took a track leading off the main path into the shrubs.  Jose said that he was going to show us a plant that would make our hand swell up really badly for 20 minutes if we touched it. When he pointed to a really innocent looking plant in the midst of bushes with massive spikes on we were a little surprised, but we made sure we didn't touch any. It is strange that people in different countries must all have different knowledge about plants. In the UK, everyone knows what a nettle looks like so you can avoid it, but I guess if a Colombian person came to visit they would have no idea. We certainly had no idea about the Colombian poisonous plants.
Finally, we arrived and excitedly put on our flippers and got into the water.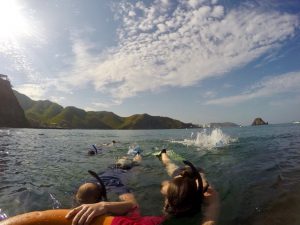 Even though we had already done free diving before it still took my breath away when you first looked down into the water. The fish were incredible; I'd forgotten how many different coloured fish you were able to see.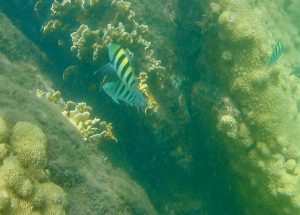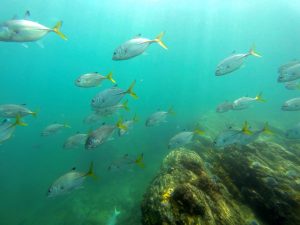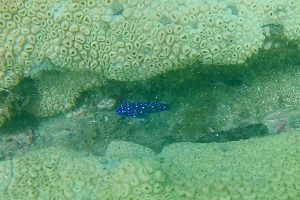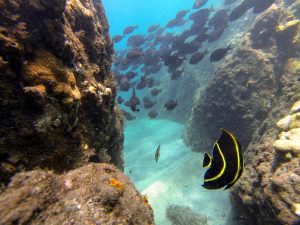 I soon asked Jose if I could dive under water and he said yes but later he told my mum that he was only expecting me to go down about one or two metres  so he only took a small breath before he came after me. When he saw me disappearing into the depths though he was very surprised. He had to come to the surface, take a big breath and chase after me! I think that all my surf life saving training has helped me improve at diving and be more confident in the water.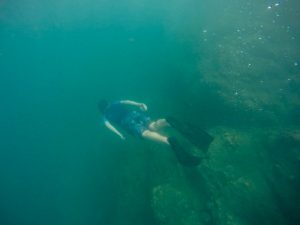 By Brae:
We saw so many things in the sea like puffer fish, star fish, sea urchins, dory fish, diamond fish, an octopus and much much more. Jose taught us how to pick up sea urchins so we didn't hurt them, and which ones not to pick up. I was really proud that I was able to dive down 8 meters to pick up a star fish. I could do so much more than when we went last time.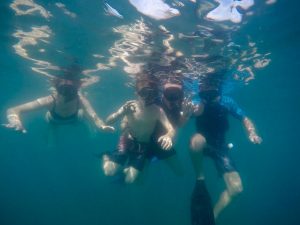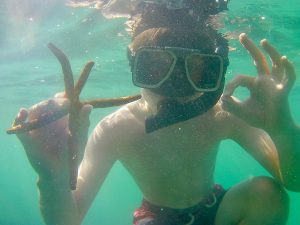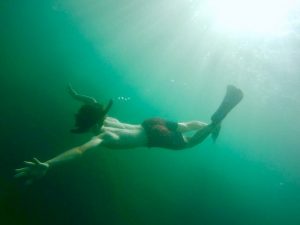 When we finally got out of the sea Jose asked if we wanted fish soup with rice and patacones for lunch. We said yes and they got out a big saucepan from the back of their dive hut and took it to one of the restaurants to ask them to fill it up enough for 8 people. My mum asked if she could go with them to help but they said no because they would charge them more if they knew it was for tourists.