By Oren:
We are currently staying in a place called Paso del Mango in the Sierra Nevada mountains, not far from Minca. It is tropical forest here and today when we were in the jungle walking, suddenly my mum said, "Oren come quick. Quickly!". At first I wondered what she had seen, and then as I saw the look on her face it dawned on me. Was it monkeys? It was!!!!!!!!  
When we were planning our trip to Colombia this time, I didn't really expect to see monkeys, but I thought if we did see them it would be in the Amazon. I definitely didn't expect to see them today, only an hour away from the city of Santa Marta!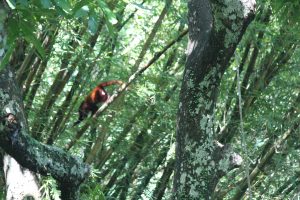 When we spotted them they were balancing on some giant bamboo on the other side of the river. Even though I couldn't see them very well it was still the best feeling ever! We used our binoculars to look at them and my mum tried to get some pictures (she only got a couple of blurry ones though). I thought things couldn't get any better, but they did…
After a 5 hour walk, we were returning home along the same path, all a bit tired, and I was in the lead. A mango dropped out of a tree and I looked up to see where it had come from. That was when I saw them. Seven howler monkeys were in the tree directly above us.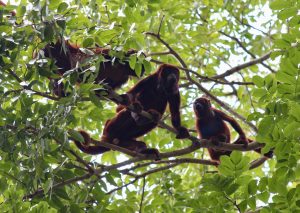 I was so happy and shocked that I almost forgot to get everyone else to come and see. This time I could see them so clearly even without binoculars. Time went really fast but we stayed there for at least half an hour watching them move around in the branches above us. There were at least two babies – sometimes gripping tight to their mothers, and other times trying out their strength by swinging and climbing. It was unbelievable how lucky we were to see so many up close, and our guide said that it was very unusual for howler monkeys not to run off at the first sight of people.
This reminded me that people also told us how lucky we were the last two times we saw monkeys in Colombia.  We seem to have a special connection – somehow our experiences have been extra special, with monkeys staying near us for ages and ages allowing us to watch them in a really relaxed way. This time I was struck by how similar the movement and behaviour of the howler monkeys was to the documentaries I have seen of orangutans.  We watched the dominant male scratch his spine along a branch and the younger ones playing and hanging just by their tails.
It was such a magical moment and even if we don't see monkeys in the Amazon I will still be more than satisfied. It was incredible.