On Monday I went to a mountain town called Minca, where we stayed in a very nice house called Emerald Green. We had a cozy room with a big double bed and bunk beds. We also had a balcony, which had a lovely view of the river and an enormous, ancient tree. The host of our guesthouse was a man called Niall who was the best! He was Irish and he was very kind and fun and made us do things during our four days in Minca that seemed scary but they turned out to be really thrilling and we didn't want to stop. Niall has been living in Minca for six and a half years because he went travelling there and didn't want to leave (don't worry, I do like it here but I will come back!). When we arrived we dropped off all our possessions in our room and found out he had a dog and two cats who were all adorable and mostly really friendly (but one of the cats was a bit scratchy!).
After a while my family and I went on one of Niall's tours to the lost waterfall, which he and his friend had discovered, with his dog Ishka running ahead. When we had been walking for a while Niall spotted a kind of palm tree that had very vicious looking spikes all over its trunk, which Niall said were poisonous and we definitely should never touch one.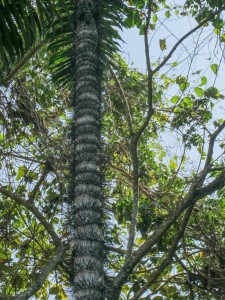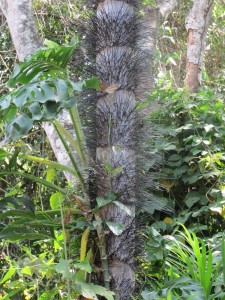 Then we hiked u
p the mountain through the jungle for a little bit more and we came to what looked like the most ginormous clump of grass you've ever seen. It was more than ten meters high and Niall said it was bamboo and it was a grass (so I wasn't wrong thinking it looked like grass).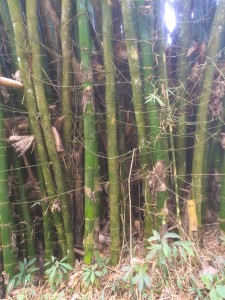 This kind of bamboo is a very useful material for constructing houses and scaffolds in Colombia, and also when they plant it by the side of the road on a steep bit of mountain, the roots act as an anchor preventing land slides and erosion of the road or path so it doesn't get destroyed. It was fascinating to
discover that houses, which were made out of bamboo, have been known to survive earthquakes when brick and concrete houses have been falling down. We also discovered that the only time you can harvest it is after a full moon at four o'clock in the morning because it makes all the water go to the bottom of the plant, and when it gets cut it can re-grow itself! It is against the law to cut it down at any other time.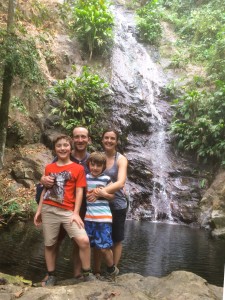 We continued to trudge up the mountain path, higher and higher, feeling sweltering hot and sweating all over. Finally we emerged through the jungle and saw an incredible waterfall. We slipped into the freezing water. It was like swimming in a bowl of ice! Niall said we'd get used to it though. We also leaped off a huge rock into the pool.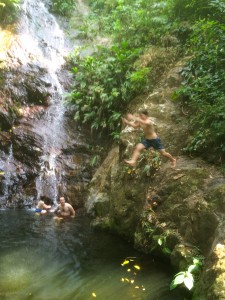 Then it was time to follow the river back down the mountain so off we went. When I say we went, I don't mean we walked. I mean we were swept down the river for a long distance, down waterfalls and mini waterslides with Niall. We climbed over rocks and my mum and dad had to get washed down a really powerful waterfall and Brae and I went down a smaller one. That's when Niall gave us the nickname chickens because Brae did the funky chicken when we were supposed to be tucking our elbows in while we were going down a waterfall! Then Niall told us to clamber across some rocks and we stood under an amazingly strong waterfall and it was so strong that my trunks almost came down! ☹ When we finally reached the house we were soaked! After that we had a very laid back afternoon because we were exhausted.