By Brae
To get to Paso del mango, you can not go all the way by car, so we got there by motorbike. We took a taxi to a police station at the foot of a mountain, then we ordered four motorbikes and set off up the mountain.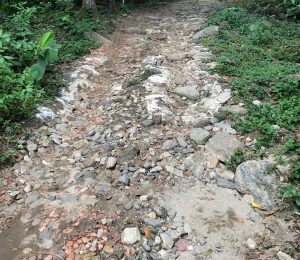 We had no helmets and our huge backpacks were balanced precariously on the front of the bike as we set off up the road for the half hour long journey. When I say road it was actually a dirty track and it was extremely bumpy and rocky like a cliff. I was just getting used to all the bumps when my driver took our his phone and started playing candy crush!!! I know someone driving up a steep dirt track one handed with a mobile phone in one hand sounds crazy but he really did play it! I think my mum and dad were pleased that they didn't know about this until I got there safely. On the way back my driver's phone rung and he answered it, stuck it in his helmet and started talking to the person on the phone, Oren's driver was listening to music inside his helmet on the way there as well occasionally getting it out to switch songs. I found out that it was not unusual for motorbike drivers to go on their phones while they were driving, in fact they did it most of the time!  They must have great skill, although as my driver made the sign of a cross after we arrived maybe my driver was also relieved we made it!
In Colombia motorbike taxi drivers don't drive on the left, they drive on the right, apart from when some of them drive on the left of course, or in the middle sometimes!!! Pretty much whenever they feel like driving on the left or in the middle they drive there.
We were very surprised by this driving but we also noticed the skill of the drivers: weaving in and out of the rocks at speed up hills and down them! It's not only on motorbikes that you get driving like that. Some taxi drivers on the coast are nearly as reckless as the motorbike drivers. They go fast and change lanes into the smallest gap. Another thing that we noticed is the amount of beeping that goes on. You have to listen carefully to distinguish between the get out of my way beep, the hurry up the light is about to go green beep, the beep for do you want a taxi and a general beep for the fun of it. There are so many horns going off you can't even tell whether it is your taxi driver beeping or being beeped at! In a traffic jam it is the worst though.
The other thing that we'd forgotten about was the 'how many people can you get in a car' game. When there is a big group of people and you are wondering how many cars or taxis you will need to get to your destination, I can tell you that no matter how many of you there are, the answer will always be one! It is strange how much of a surprise these things can be when you are used to things being a certain way.