By Brae:
We would recommend Colombia to anyone, because they would have an  amazing time there and have incredible experiences. But what makes Colombia extra special for us is that we have a Colombian friend called Diana. And what makes that even more special is that all of her family are really, really welcoming and kind. They all live in Bogotá, the capital city of Colombia, which is why we used this as a base for our trips and spent quite a lot of time there.
When we first arrived in Bogotá and rang the bell of their flat, Diana, her husband Ernesto and her brother Luis Fernando were all there to welcome us and we really felt like this was our Colombian family. Diana's flat had the most amazing view in the world out of the window and we saw humming birds in her garden!
Diana's family also took us to stay the weekend at her mum's old house and it had a pool right next door and we swam in the pool all the days that we were there. The first time we went into the pool I was surprised that I way out of my depth because all the other pools I had been in in Colombia haven't even been up to my neck. Later on, everyone was in the pool hitting the ball to each other in the air, and I could still do it but it was harder for me because I was treading water the whole time when everyone else could just stand up   .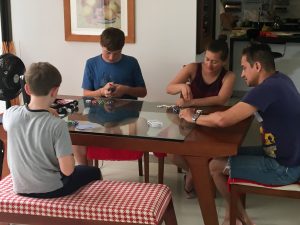 In the evening, we played poker and suddenly Diana pointed under the table and the look of horror on Luis Fernando's face as he jumped up and grabbed a flip flop made me sure that it was something bad. I looked and I saw a scorpion under the table! Then SPLAT – Luis Fernando crushed it under his shoe.
One of the best things about seeing Diana is that we just do normal family fun like playing games and cooking. Diana always teaches us a new recipe and this time we made a Spanish dish called paella.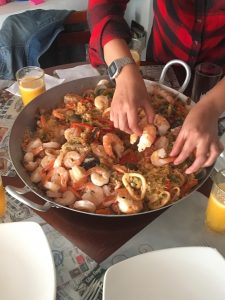 It's basically a lot of rice with vegetables, sea food and meat. In fact, food is always a big part of the time we spend together and the whole family makes sure we get to try the best Colombian food. On our way back from Diana's mums house we had lunch at a ribs place that Diana's other brother Ivan wanted us to try and he was right because it was the best ribs I've ever had!!!
In Colombia, breakfasts are very different because in England you might have cereal, toast or pancakes but in Colombia you eat a big meal. It could be arepas, cheese, eggs, sweet rolls, envueltos, tamales, meat, left over dinner from the night before (we had paella and pizza for breakfast in Bogotá!), patacones, empanadas etc. It's going to be hard getting used to a small bowl of sugar-free cereal again!
Another example of their kindness is that Diana's husband Ernesto saw me and Oren watching football on TV one day and the next night he took us to see Santa Fe (their local team) play a game at the stadium nearby. I've only ever seen Norwich City play before so this was so exciting and it was one of my favourite things we did. Even though the stadium wasn't even half full, it was probably a lot louder than most games in England because the fans were so supportive, shouting and blowing horns and there were two huge bands playing instruments. It was especially cool because Santa Fe won 1-0!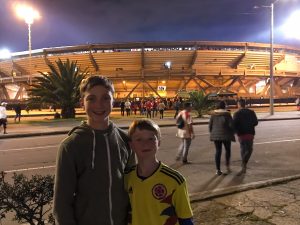 On our last day in Colombia we went on a bike tour around Bogotá. We rode bikes around the city for 5 hours seeing things that Colombia is famous for. For example, we went to a chocolate shop and a place they roasted coffee. We also tried these things called fat bottomed ants and they tasted a bit like salty popcorn but they have a really grim aftertaste. Best of all was the Paloquemao fruit market where we tried loads of fruit, like zapote, mango, lulo, tomate del arbol, maracuyá, dragon fruit, guanabana, mangostinos and feijoa etc. I have eaten so much unusual fruit while I've been in Colombia. I think you could try a new fruit every day for a month or more! I'm going to miss all the fruit juices and fruit ice cream flavours.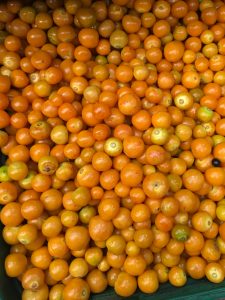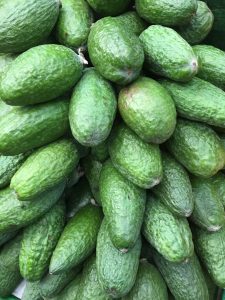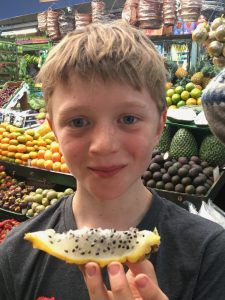 We also parked our bikes for a while to play Colombia's national sport 'tejo', which is where you throw metal disks at explosives! We played it last time but this time we played it in a bigger place and the disks were a lot heavier, plus the explosions were much, much louder because it was inside and there was a lot more gunpowder.
Last of all, we got to see some of Bogotá's graffiti. Diana is a lawyer and it was so cool to find out that she had been involved in making the law that stopped graffiti being illegal. Some of it is really amazing.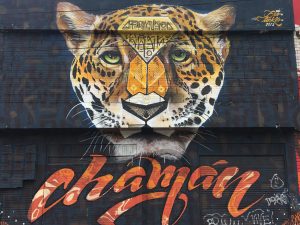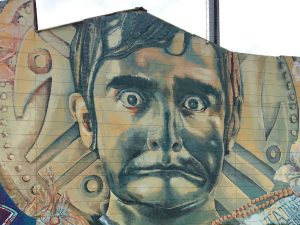 I really liked the bike tour and afterwards Diana took us to a restaurant that she really liked and the food was one of the best meals I've had on the trip so it was a great way to end a brilliant day. We are really going to miss everyone.