By Brae:
At last the day arrived when we would hike to reach the Caño Cristales river. Seeing the water was one of my favourite parts of our trip to Colombia, with shades of pink, green, blue, yellow and more. I really enjoyed looking at the river, as well as swimming in it, because it was so beautiful. The thing that I found really amazing was how clear the water was. If you were wearing goggles it was as clear as swimming in air, and even if you weren't wearing goggles it was clearer than wearing goggles in a swimming pool!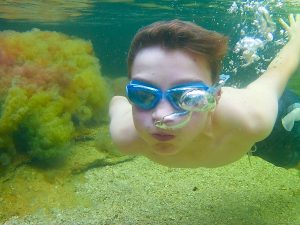 One thing that made our day extra special was that we were allowed to go in a group of just the 5 of us, with our own guide (called Jose), and we didn't see anyone else in the national park for the whole day, apart from right at the end!
There are strict rules about how many people can enter the park each day and it's really well organised. Each group is given a different route and a different start time. We did a 14km walk with 4 awesome swimming spots, lots of wildlife and the prettiest views you can imagine! We were chosen to do the longest walk in the park because before you go to Caño Cristales you have to fill in a form about how healthy you are, and then they will chose a walk appropriate for your group's average health and fitness. We had to say that both me and Oren are very active 7 days a week and that brought our average fitness level up loads!
Because we were on the longest walk, we had to get up really early and catch the first boat to take us to the entrance of the national park. Just as we were setting off, a dog jumped on board with us! We were then told that the dog always goes to the pier and waits for the first group of the day and then it goes with them into the park.
When we got to the entrance, the soldiers searched our bags and my Mum had her lipsyl confiscated! To explain why, I'd better tell you where the colours in the water come from. There are some plants which don't grow anywhere else in the world, and they only grow for a few months each year in the Serranía de la Macarena National Park. The plants grow underwater and this is what gives the water some of its amazing colours (as well as other plants, deep pools, reflections and sand).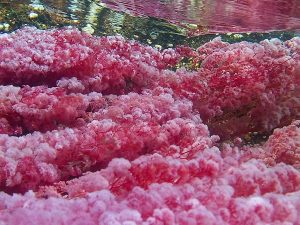 Because the plants are so unique they are trying really hard to protect them. That means you can't always swim where the plants are, and if you're going to swim you can't wear any sun cream, or insect repellent or any other soaps or creams in case it goes in the water and damages the plants.
For this reason, my Mum didn't mind about her lipsyl and so we boarded our jeep to start a 40-minute journey to the start of our hike. After the first few minutes bumping over roads eroded by water, we noticed that the dog was running along behind. We tried to ask our driver to stop and give him a lift, but they said the dog did the run every day too and would be fine. And sure enough it ran after the jeep for the whole way!

As we finally set off walking, we were surprised by the unique landscape and flowers and how different the insects were.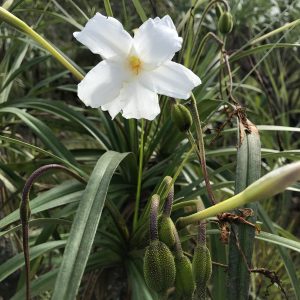 First we saw white flowers everywhere. It was another special plant that could survive the fires that happen there. You can see the burnt stems in the photo but it just starts growing again. At one point an insect landed on us and Jose was really amazed as it was something he had never seen before. It was like a cross between a bee and a butterfly. He took photos to show some university students who are studying the nature in the park. When you remember that this place was completely unexplored for a long time, we really thought that maybe we discovered a new species!!
 We also saw some grasses that we thought Nonna and Jesse would like.
We were lucky because it was cloudy in the morning which meant it wasn't as hot as usual, but even so it was extremely hot. After we had been walking for about half an hour we came across our first glimpse of the river and it was the most incredible thing I've ever seen. Before we went to Caño Cristales we were not sure if it really was going to be as amazing as everyone said but when we got there it was even more amazing and beautiful.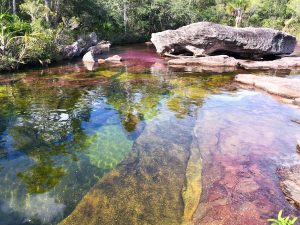 To get to all the places that we wanted to go, we had to jump over rocks and wade through the water. We also passed giant waterfalls and holes in the rock that had been made by the water. Some of them were like perfectly round, super deep swimming pools, and we even climbed through a hole to see another waterfall.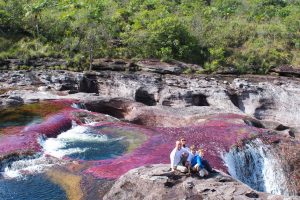 The first swimming spot was quite shallow apart from a large circular hole that was up to my neck. But the reason I liked that spot was because there was a waterfall that you could sit under and it was really nice and refreshing.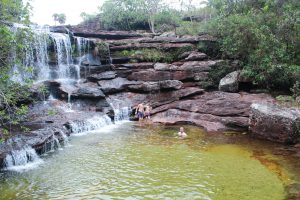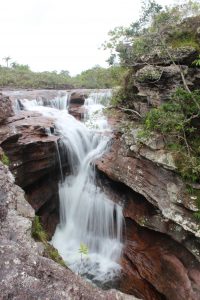 The 2nd swimming spot was also really cool because it had loads of awesome places to jump into a really deep pool. This one was in the shade which was a very big relief. We also had lunch there which was wrapped in a banana leaf that we had brought in our backpacks. It was a very nice packed lunch, with chicken, rice and some kind of delicious sauce.
My favourite swimming spot was the 3rd one. In the middle it was 8 meters deep and it was really fun diving down and picking up sand from the bottom.
Over a wide area it was at least 3 metres deep so it got quite tiring because we were swimming there for about an hour, but luckily there were lots of stones to stand up on.
We spent the whole day hiking and it was perfect. We walked a bit and then just as I was getting hot and tired we'd turn a corner and come to a different branch of the river and a new place to swim. We were so glad that the next day we were told we could go and explore another part of the river called Cristalitos, because we didn't want our experience to end. Cristalitos is a river like Caño Cristales but smaller, and our guide Jose knew a way to get there because he had part of the Cristalitos river on his own farm, which I found really amazing! So, first we got to see around Jose's farm and he was growing lots of things like pineapples, coca, yuca and guanabana. He was also doing some conservation work to protect the turtles from the main river and we got to see lots of babies. When we reached Cristalitos river it was just as beautiful as Caño Cristales and we we had a lovely swim.
Too soon it was time to leave to catch our flight back to Bogotá. Our stay in Caño Cristales was definitely in my top three things of the whole trip.