By Brae:
Last weekend we went to Barranquilla, the fourth biggest city in Colom…OK, enough of that, let's get to the important part: carnival!!!!
Every year Barranquilla has a completely mental party that goes on for 4 days and nights. Nearly 2 million people go to the 'Carnavales de Barranquilla' so it's pretty big. The second biggest carnival in the world after Rio in fact.
We had tickets for seats in a stand which meant we were high up and had a really good view. There are thousands of people performing in the parades with lots of dancing, people pretending to be zombies, cannibals, animals and other stuff and the most incredible costumes ever.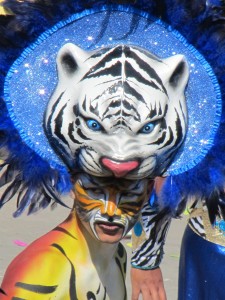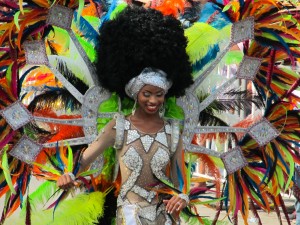 The parades went on for at least 4 hours every day but we never got bored for one second because of the interesting things that they were doing and the party music and atmosphere.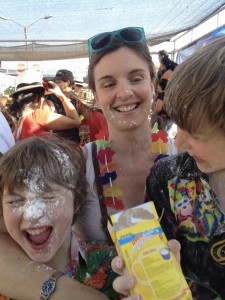 One of the things that made it so much fun was that you were given little boxes of flour
and you could throw it at each other or squirt people with foam. Everyone was wearing weird carnival clothes and funny hats and acting completely crazy! Here is a picture of some kids that threw flour at us, but then they gave us some of their flour so we could throw some at them and at our parents!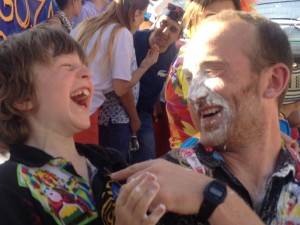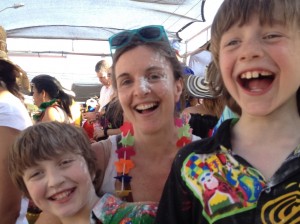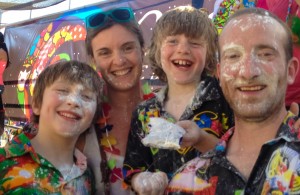 I hope that the photos and videos we took help you imagine what it was like to be there.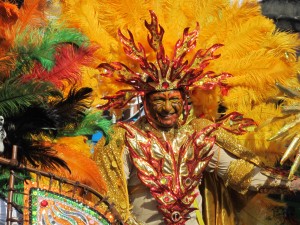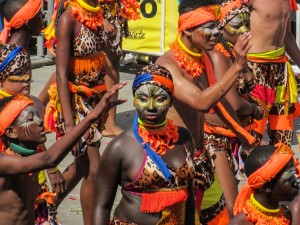 Did you notice the ladies balancing bottle on their heads? These are full of aguardiente which is like whisky. People drink it a lot.