By Brae and Oren:
In our last few posts we told you about statistics and school, but now we want to remind you how many really, really fun things we're doing in Colombia…in case you forgot!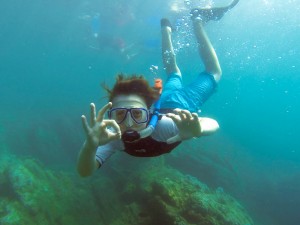 Our friend Maryline, who is my mum and dad's Spanish teacher, helped us go on an incredible diving lesson on Sunday. Her boyfriend Camilo, and his cousin José are both diving teachers. And because we are friends with Maryline, we had an extra special experience!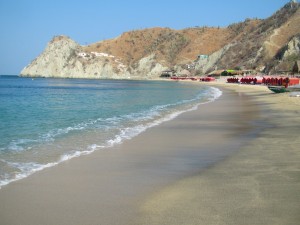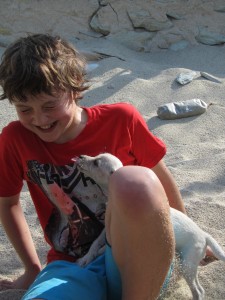 We went to a beach called Playa Blanca (white beach) and the only way to get there is by boat. When we arrived, no one was there and so we had the whole beach to ourselves, apart from a little dog and its owner, who has a restaurant on the beach.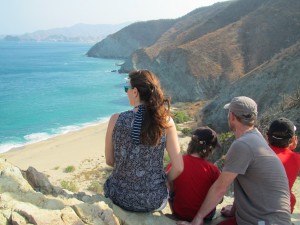 First we climbed up a hill so we could see the view. From the top we could see black smudges in the water. José told us that they were schools of sardines.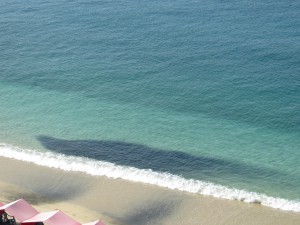 For our lesson, José took us into the water and gave us our masks and snorkels and told us important things you need to know if you want to go free diving. Free diving is when you can dive right down underwater with your snorkel, not just staying on the top. We practiced all the tips he gave us and he said we were doing really well so we set off to the other side of the beach, got our flippers and he told us how to use them.
We went diving near a rocky cliff and there was amazing coral and all kinds of incredible fish and sea anemones. We were amazed about all the different colours of the fish. It felt like being in an aquarium.
About half way along the cove José spotted a puffer fish swimming around among the coral. He dived down and gently urged it up towards the surface by putting his hand near its nose but not actually touching it. We were lucky enough to touch it, extremely gently, and it felt like silk because it wasn't frightened or puffed up. When they're puffed up they have spikes that point out so they're like a balloon with spikes on. We would have liked to see it puff up but we didn't want to make it frightened. While we were diving we didn't touch the coral as we didn't want to damage it and also José told us that the orange parts of the coral would really sting if you even put one finger on it.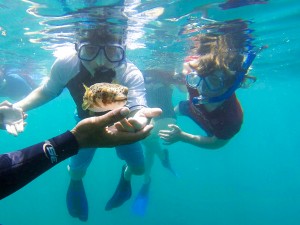 We feel really lucky to have this great experience and to have friends like Maryline, Camilo and José to help us do something so extraordinary that we will never forget.