By Oren:
This is a special post as this isn't just for fun. I'm not just writing this blog today to tell you what we've done this week. I'm writing it because I want to help some Colombian children we met and we need your help.
While we are in Colombia, my mum is volunteering at a charity called Tiempo de Juego (Play Time). Tiempo de Juego help children who come from a poor neighbourhood of the city near us, called La Lucha. Lots of children who live there have very different lives from me and Brae and most of our friends. They don't have water or electricity in their houses or doctors if they get sick. Also, lots of them don't have a dad living with them and their mum has to go to work to earn money so they don't have anyone looking after them after school and there are some scary and dangerous things happening where they live.
Tiempo de Juego organises football clubs for children, so that they have something good to do. Also, when they go there they can learn from older children that joined the football club when they were young who can tell them how to keep away from the bad things in their neighbourhood, stay safe and have a better life.
Because my mum is working there we got invited to a charity football match. It is quite interesting as when they play football in their clubs the games have three parts. First, the children in both teams agree on some rules at the beginning. Everyone has to come up with the rules and there is no referee or grown up to decide the rules for them.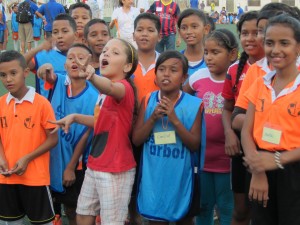 For example, they might say that a girl has to score the first goal (loads of girls play football in the clubs), or that play stops if someone gets hurt, or that everyone in both teams has to celebrate when someone scores a goal, and things like that. Then they play the football game. Then the third part is when the teams get together to decide who has won, and it's not necessarily the team that scored the most goals! It is also about which team followed the rules best that they agreed at the beginning.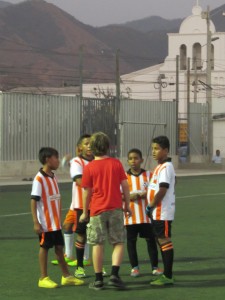 So, last Wednesday we went to a special pitch (it was special because the famous Colombian footballer Carlos Alberto Valderrama, otherwhise known as Pibe Valderrama, played on it when he was a little boy) and we watched another charity play against Tiempo de Juego. In the middle of one of the matches the team instructor came up to us and asked if we wanted to play! We were a bit nervous at first because we didn't know what the rules were, but we soon got the hang of it and before long we felt really part of the team.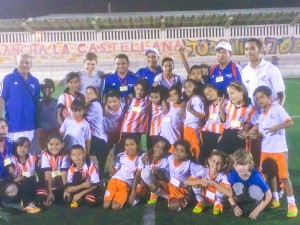 In my match my team played well but the other team scored more goals ☹ but after the match we talked about who followed the rules best and we gave points. The score in points was, us: 7 and them: 5, so we won! ☺
I wonder if Mr Brown might want to do a match like this in training to see how it goes?
Anyway, I have been thinking a lot about these children and I feel sad that they don't have the simple things they need in life. So Brae and I have made a fundraising page and we really, really hope that it can make a difference to their lives.
Here is the link for anyone donating money in the UK: EverettsInColombiaFundraising
Or if you are in Colombia or somewhere else, you can give money directly to Tiempo de Juego: DonateTiempodeJuego
If anyone felt that they could make a donation we would be so happy and we'd feel like our blog was really doing some good, apart from just talking about our adventure.
We hope to see our new friends from Tiempo de Juego again so we will tell you more about them next time.
Thank you, friends, family and all our blog readers that we haven't even met yet!