By Oren:
Even though we were in Colombia for three months, we still never got used to Colombian people being so kind and generous! Sometimes people came over to talk to us and ask where we were from and things like that. That might seem a bit normal to you but if you'd known someone for 5 or 10 minutes would you think it was normal if they then offered to do something incredibly kind and generous for you, as if you were one of their best friends or part of their family? It didn't seem normal to us but in Colombia it happened all the time. Here are a few examples:
One time, when we were in Barranquilla, we were on our way out when a man walked out of the hairdresser next door and started to talk to me. After about 10 minutes, my mum got off the phone and he said to her (in Spanish): 'What lovely boys you have. They are really good at speaking Spanish. It's my birthday tomorrow, would you like to come to my party?'. When my mum said that was really kind he replied 'mi casa es tu casa' which means 'my house is your house' and he offered for us all to go and stay with him and his family.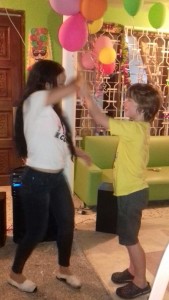 When we said we were fine where we were staying, he told us that if we had any problem, we should come to him (he lived across the road from where we were staying) and knock on the door even if it was 2 o' clock in the morning! Then he showed us around the neighbourhood. The next day we went to his party and we ate lots and danced with his daughters who were really nice too and met some of his friends (also really nice!) and when Brae got tired he said he should go inside to have a sleep so that my mum and dad could stay up late at the party!
Another time, we were trying to get home from Parque Tayrona and saw a bus pull up. We asked how much the tickets were but it turned out to be a private bus for some students from Boyacá. Even though we were just random people from the public, they said we could ride in their coach all the way to Rodadero where we lived (more than an hour away).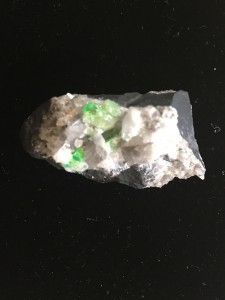 On the way, my mum was chatting to some of the students and because they studied geology she told them Brae was in Emerald class and he wanted to bring an emerald home from Colombia to show them (they don't really have amethyst mines in Colombia, so I can't bring one back). The girl suddenly rooted around in her bag and pulled out a stone, studded with little emeralds! We thought she was just letting Brae have a look but when we tried to give it back she said "no, keep it"!
We have already told you about our taxi driver Javier (he drove one hour in the opposite direction to get a photo of shark oil for our blog -insert link to shark oil here), but we didn't tell you that when we got back to Rodadero from Palomino my mum realised that she had forgotten a dress and he drove back and got it even though Palomino is an hour and a half away! We also told Javier that we were trying to find a Spanish teacher for my dad and he said he'd ask a friend of his who had retired after working as a professor at the university. Next thing we knew, this professor turned up at our house with his grandson to say that he wanted to apologise in person that he couldn't teach us because he was a geography teacher, not a Spanish teacher. But he was so sorry not to help that he said he would be happy to give me and Brae free geography lessons and do anything else to help us feel at home in Santa Marta. He even went with my mum to help her set up a Colombian mobile phone!
If I wrote about all the amazing, generous Colombian people (for example, Maryline, Camilo and Jose, Laura and her family, all my mum's friends from work, Guillermo, all the wonderful teachers and families from our school like Luis, Shamir and Alasha…) it would take a day to read this post, so I will have to leave lots of things out. But I can't finish without telling you about Diana. Of all the people in Colombia who were nice to us, our friend Diana and her family were the most kind.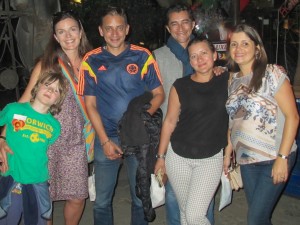 We met Diana in London when we were very young, and she has felt like our Colombian family ever since. At the end of our time in Colombia we went to stay with Diana and her husband Ernesto in their apartment and they looked after us so well when we spent a week with them. They both cooked us amazing food and took us to great places. We also saw Diana's brothers Luis Fernando and Iván every day and also their mum and cousin.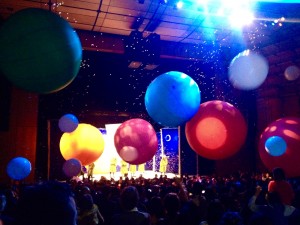 Luis Fernando took us to an amazing show at the theatre and to lots of nice restaurants and showed us around the city, Iván bought me and Brae Colombian football shirts and taught us all about the Colombian football team and Diana and her mum taught us how to make Colombian food.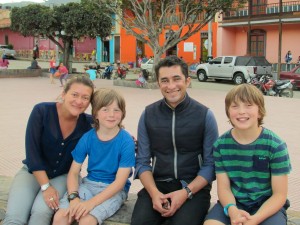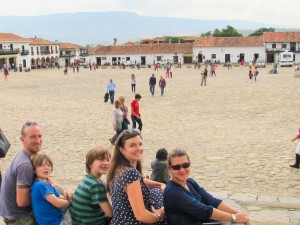 Her family has done so many nice things for us that we can't write them all but I should tell you that Diana and her family seemed to have every second of our time in Bogotá planned with lovely things to do so my family and I would have the best and most memorable time. It was really sad to go and we didn't want to leave her.