By Oren:
In Colombia there is a huge range of animal species ranging from exotic birds to monkeys. Colombia holds the biggest range of butterflies and the second most of birds in the whole world! The national park 'Parque Tayrona', near where we live, is home to hundreds of species of animals. Today my family and I went on a trek up a mountain and then floated down the river on a tyre. As we peered into the jungle canopy I was amazed to see a huge king fisher sitting on a branch acting still, staring down at us. It was the first one my mum and dad had seen in forty-one years, and I spotted it!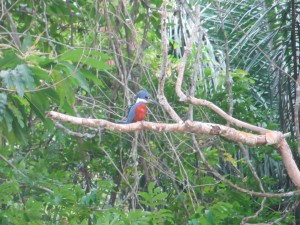 In Colombia everyone wakes up really early. In Palomino (where we stayed this week) at about six in the morning you can see little red squirrels scurrying in the trees. They are adorable!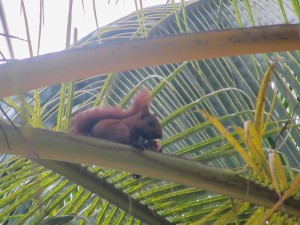 You can also see lots of interesting birds and hear their calls. There is a bird that looks like a black bird with a really long tail, which has an amazing amount of calls – it is squawking at me right now.
My dream is to see a monkey in the wild and I might be able to see one in 'parque Tayrona'. We also saw a Portuguese man-of-war (it looks like a jellyfish but it's actually something called a siphonophore!). For humans their sting is excruciatingly painful but rarely deadly, even dead ones can sting you. On the way back from Palomino we saw two massive green iguanas basking in the sun but they ran away before we could take a photo.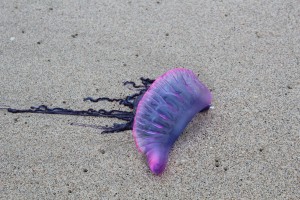 This is a good time to tell you that I've always felt passionate about animals, so having this opportunity to see so many new ones is unbelievably awesome!