By Brae: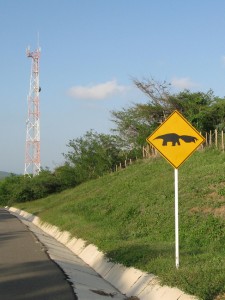 Here are some unusual signs we have seen.
We saw this sign on the side of the road warning of ant eaters. In Tayronaka, I spotted an anteater walking through the bushes just beside me. He was about the same size as a big cat or small dog with a very long nose. It was cool to see it but we didn't get a photo.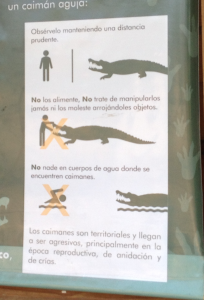 When we were in Tayrona we saw another strange sign saying not to feed the caimans. My dad thought was a bit obvious not to put your hand in its mouth!
We spoke to a lady who was selling cakes that she cooked in a little hut by the lake where lots of wild caimans lived. She said the caimans in the lake were 3.5-4m long (that's twice the size of a human grown up!). She said she saw a dog go down to have a drink from the lake but then a caiman came and swallowed it whole! We kept a good distance away from the edge on our way past.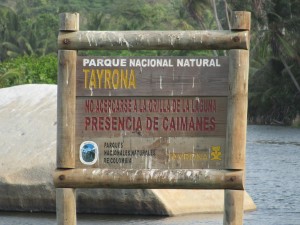 You can find more weird stuff here.