By Oren:
One thing we did quite a few weeks ago, which we haven't had time to write about yet, was go to Cartagena. My mum has always wanted to go to Cartagena ever since she first got a job to do with Colombia.
Cartagena is well known for being one of the most beautiful cities on earth, and when we went there we saw why. All the streets have lovely balconies with flowers on in little baskets and all the squares have amazing churches and brightly coloured buildings. The best thing to do in Cartagena is just to walk around a lot and that is what we did. Whenever we were on a street we thought it was the most beautiful, but then we'd turn a corner and find something even better!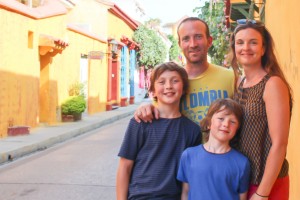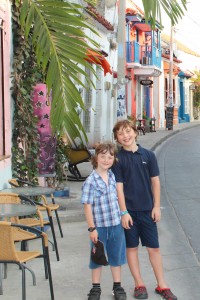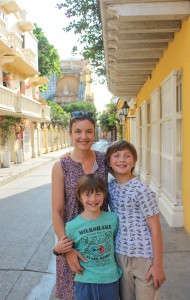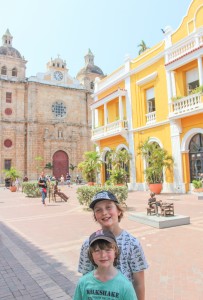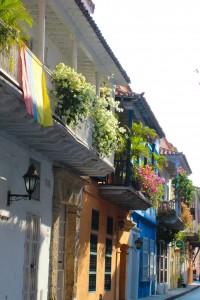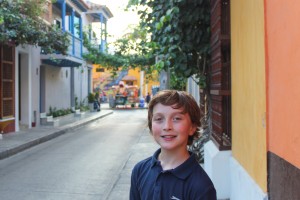 When we arrived we were really thirsty because of the long journey so we went to get a drink and watch the sunset from the city walls. Cartagena is also famous for being one of the hottest places in Colombia. Unusually, it was a bit breezy that evening and Brae said he was cold and he needed a jumper. When we told our friends in Bogotá that Brae was so cold in Cartagena that he wore a wooly jumper they couldn't believe it and said he really must have got used to the heat in Santa Marta. I wonder how we will feel when we get back to Norfolk!
The only not so good thing about Cartagena is that there are loads of tourists. As it is so beautiful a lot of people from America and other countries come there so it was very crowded You can see how many people were there in the background when we took this photo on the city wall.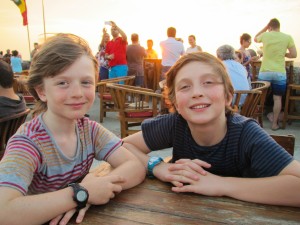 Where we lived in Santa Marta, there weren't very many tourists, and hardly any foreign children, so people were interested in us and wanted to know what we were doing there. That meant that everyone was coming to talk to us all the time and asking us questions, but in Cartagena everyone was used to all the tourists so they weren't that friendly.
One other thing we did when we were in Cartagena as go to Castillo de San Felipe de Barajas. It was named after Felipe IV of Spain who was king when the castle was built in 1657. They built it to protect Cartagena from pirates and from other countries like England who were attacking it because they were trying to make siege on Cartagena. It is a huge fortress and it was never taken even though lots of people tried.
The coolest thing about the castle was the tunnels. They were designed to carry sound so that if an enemy was approaching they could hear them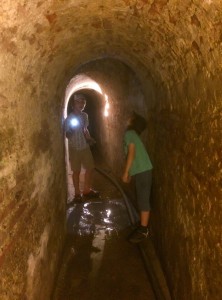 coming and be ready. You could go down the tunnels and I thought they were really cool and it was really fun exploring. We went down and down, often in the dark, until the tunnels started to have water in them. We found out that because the sea level is higher now than when the castle was built the lower tunnels have started to fill with water. We spent a long time exploring the tunnels, sometimes coming out in a completely different place from where we planned to be.
Even though we loved Cartagena and thought it was very beautiful, we all agreed when we got back to El Rodadero that we were all glad to be back there, where everyone is so friendly.