By Brae:
We went to a very famous place in Colombia called Guatapé and it is special because of all the decorations around the houses. The bottom of the houses all around the town have painted sculptures of animals, farmers feeding animals, vehicles or local places.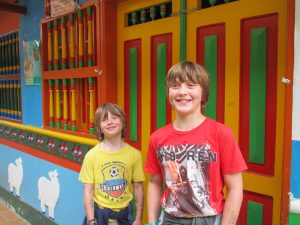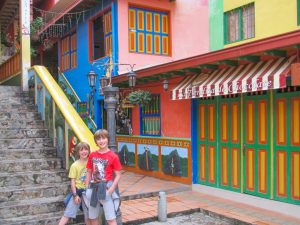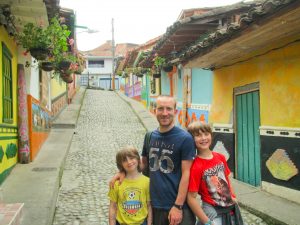 It is also famous for a dam that they built in the 1960s and it makes almost a third of Colombia's electricity. When they built the dam it flooded all the valleys and lots of Guatapé and its surroundings so the landscape has lots of lakes. Some houses and towns ended up underwater and we heard that the only bit of the old village you can still see are the tops of the hills and the spike of the church tower sticking out of the water. We went on a boat around the lakes but we didn't see it.
One very big hill, high above the water, is called 'el Peñol' but people also call it 'la Piedra' (the rock).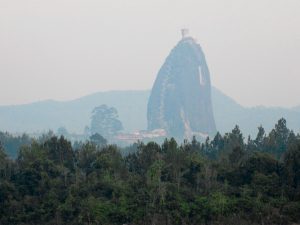 It's quite amazing looking because it sticks up so much higher than everything else and I guessed that it was flung out of a volcano and we found out that I was right!
We heard that you could climb it, because someone had built stairs in a gap in the rock, so we did.
We climbed up and I got there really quickly because I ran up but everyone else went really slowly. At the top there was an amazing view and we learned that there were six hundred and fifty steps and there was a tower at the top that was about fifty steps so I had run up about 700 steps altogether!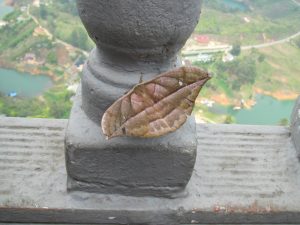 At the top we were about to go down when I saw a moth that looked like a leaf. It was really cool and we were quite surprised as it seemed very strange for a moth to be this high up.
Guatapé was one of our favourite-looking 'pueblos' (which means towns) but we went to quite a few other beautiful places too, like Ráquira which is famous for mud and pottery, Salento (where we played Tejo), Filandia and Villa de Leyva which has the largest cobbled square in all of South America.