By Oren:
One of the things my mum and dad had been reading about when they were first planning our trip to Colombia was a walk in a place called the 'valle de cocora'. They really wanted to do it but they didn't know because they had read about gap year students who hadn't been able to do it because the last bit is up a mountain, and it is a really long walk. Despite this they wanted to do it so much so Brae and I rose up to the challenge…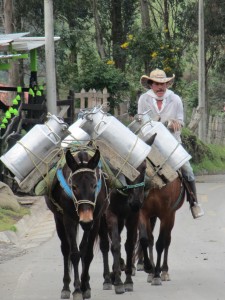 About half way through the walk there is a humming bird place called Acaime so we were looking forward to it. We had booked a guide but when we arrived he wasn't there so we asked some people where he was and they said that he was drunk so he was very late. After we heard that we decided that it would be best to go on without him.
After we set off the view changed a lot and we were enjoying it because it was beautiful. We also passed over lots of rickety broken bridges along the path.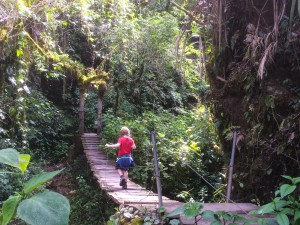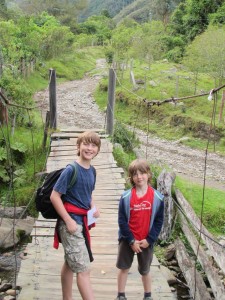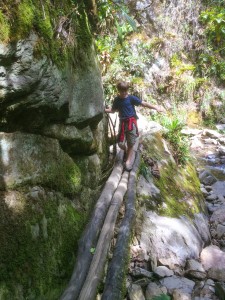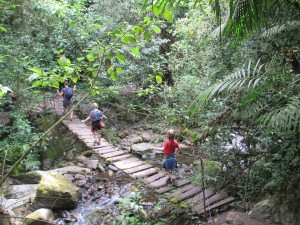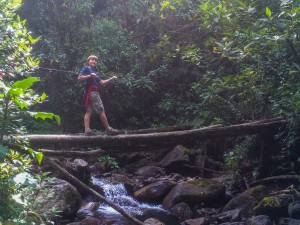 After we had been walking for about two hours we reached Acaime and my feet were hurting a bit so that was a relief. We thought it would be an enclosed area where there were a few humming birds quite a long way away, but it was way better than that. The sanctuary was in an open space in the middle of the jungle where they had some feeders with nectar in. The nectar made so many different birds from the jungle come down to feed and you could stand just about a metre away from them! There were literally loads of shimmering humming birds flitting around like lightning on the feeders and on all the branches and flowers around us!!!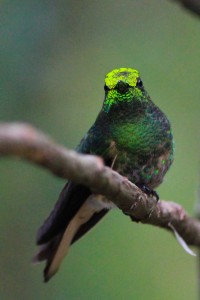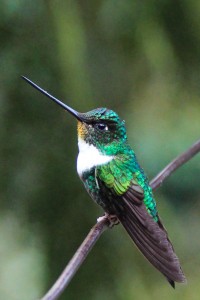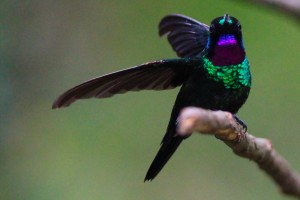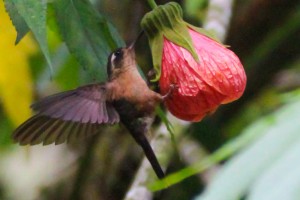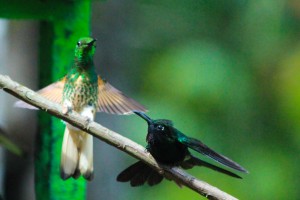 After we had stayed for nearly an hour and a half we decided we should probably go but our minds were still full of colour and light.
After Acaime we had to re-trace our steps a little bit and we came to a mountain path which was the next part of the route. It was an extremely steep bit and we struggled. Brae didn't though because he went as fast as a mountain goat, but because of my altitude sickness I went slowly. When we reached the top it was a relief because we were all tired by that point. We looked at the view over the valley but we couldn't see much at first because of the clouds (we were so high we were right inside them). We had a big rest up there and then we set off again on the downhill part of the journey.
My dad had told us that on the walk down there were palm trees that were sixty metres tall, but we didn't believe him. Sixty metres is about 30 tall men standing on top of each other! When we got to the bit where the palms were supposed to be we saw some that were thirty metres tall so we said to him: "Told you that they weren't sixty metres tall", but then we turned a corner and saw palms that really were around sixty metres tall! It was hard to see the tops of some of them because they were so high.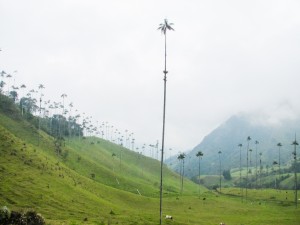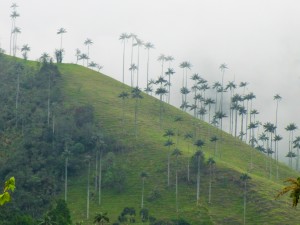 I felt amazing that I did it and I felt that I could do anything now I have completed the walk, but I was exhausted. My mum and dad were really happy and proud of us.