By Brae:
In Colombia the transport is different. For example, the buses drive with their doors open, there are no bus stops and you just tell the driver when you want to get off and on. The buses are blue.
The taxis are yellow, so Rachel [Hare], Mae and Lily will understand that the 'spot the yellow car' game that my family plays in Norfolk is a very different game in Colombia, because almost half the cars are taxis! Also the taxis don't have seat belts.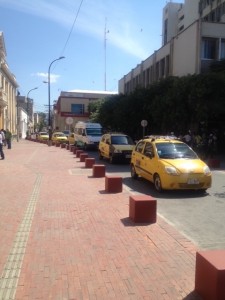 There are not only normal taxis in Colombia, but also some of the motorbike riders offer to give people a lift so there are also motorbike taxis here. I can't decide whether to go on one or not because it doesn't look very safe to have something like three people on a motorbike.
Sometimes, a horse or a donkey with a cart comes along the road. We've figured out why they have those covers by their eyes. It's so they can't see the cars, taxis and buses all whizzing by. If they did, they would become scared and then it would be chaos.
There is a lot of beeping everywhere as the cars beep their horns a lot.
The roads are normal mostly, but in some places the road is completely made out of dust, like the road our school is on. Here is a picture of it.