By Brae:
We went to a place in Colombia called Salento, in coffee region. In the town we heard of a place where you can play Tejo, which is the national sport of Colombia. We learnt about the game before we left England and really wanted to play it. We had tried to find somewhere in Santa Marta but we asked a taxi driver one time and he said the Tejo places in Santa Marta were really just for truck driver, not for children. The place that we heard of in Salento was called Betatown and it was OK for children too.
Tejo was invented more than 450 years ago by indigenous tribes. It used to be that you threw gold discs into a hole in the ground. After the Spanish arrived, they liked the game but they changed the rules a bit. They took the gold away and used iron instead, and they added gunpowder!
Now you play Tejo with a heavy disc of metal which you throw about six meters. You throw it into a box of clay with a metal ring buried inside and little triangles of gun powder touching the metal. You do not get any points if you miss the box of clay, you get one point if you land in the clay and you are closest to the metal ring, and you get three points if you hit the gunpowder and it explodes.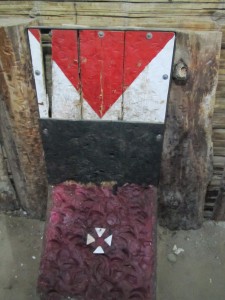 We played in teams of two and slowly got better, in the end we all exploded the gun powder. The gun powder was very loud and with lots of smoke and fire. We enjoyed it so much that we went to play it again the next day. Here are some pictures and videos of us playing. You can hear the rain at the end, because it was a thunder storm.  It was the first rain we'd seen for nearly three months so it was quite cool.