By Oren:
In Colombia, what the people that live there think of as an "aguacate" (avocado) is different to what you think it is…
When we first arrived here, whenever we went to the supermarket we always looked at the fruit section because the fruits there were new to us. Once we saw what looked like a melon in one of the boxes and we couldn't believe that it was an avocado. Here is my dad's expression when we got our first giant aguacate:
Another thing about avocados in Colombia is that the stall holders aren't the quietest of people. They walk past the apartment blocks and houses pushing their wheelbarrows and shouting, sometimes through a megaphone, trying to get people to come and buy their fruit and vegetables. They talk really quick, telling you all the things they are selling and it sounds quite funny.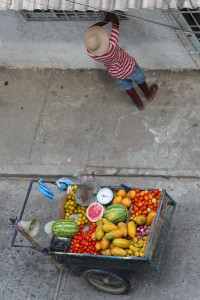 This man has persuaded someone in their house to buy some of his fruits off his cart and he's just passing them through their window. If you look closely you can see on the handle of his cart a megaphone which he had been shouting into: 'Sandia, Papaya, Aguacate, Tomate…'  If you are walking past they stop and try persuade you to buy things and say "es muy barato"  (its very cheap). Here's a clip of what they sound like: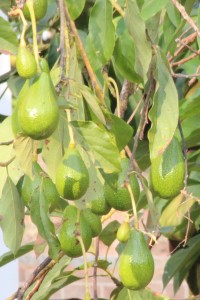 In case you don't already know avocados grow on trees and we walk past them very often. You can tell that we have got used to them because when we went to Don Diego, Brae and I used some to play catch because we didn't have a ball!