By Oren:
You can buy fruit in the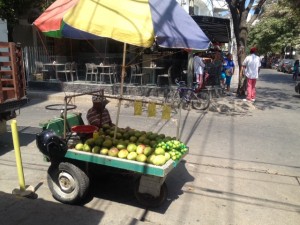 supermarket here but we have discovered that lots of people people sell fruit at the side of the road on little wheelbarrows or stalls made out of wooden boxes. Sometimes people only have one kind of fruit (which makes me think that maybe they only have one fruit tree in their garden and that's the only fruit they can sell), but sometimes they have a whole variety. In these photos the man is selling avocados and he was carrying them on his head.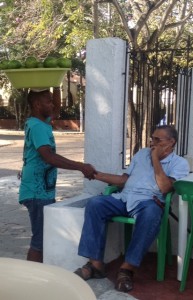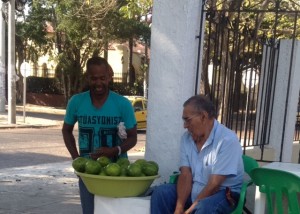 Sometimes from our balcony we hear the sellers shouting through a loud speaker: 'AGUACATE, AGUACATE, AGUACATE, PAPAYA, PAPAYA, PAPAYA' ('Avocado…papaya…') to get people to come out of their apartments and buy them.
We have started to buy lots of fruit from stalls and sometimes we buy fresh fruit juices too. Recently,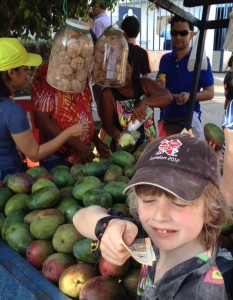 we have discovered that mango cut up with salt, pepper and lime is super delicious (it sounds weird but it's yummy). Our favourite juice is a local speciality on the coast of Colombia. It is called 'limonada de coco' and it's fresh coconut and lime with ice. It is exquisite. In my last fruit post I talked about 'piña dorada' but I didn't have a photo because I ate it before we could
take a picture. We have eaten LOTS more golden pineapple since the first one so here is a photo of one we had last week.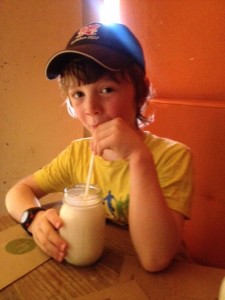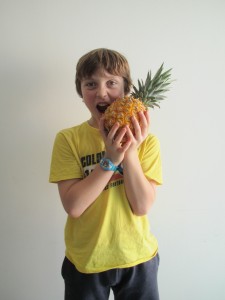 The previous post can be found here