By Oren and Brae:
We have a page on our blog that shows us the statistics. It tells us how many people are enjoying our blog and where they are. We didn't have the statistics on the blog before 4 February so we don't know how many people looked at it before then, but since 4 February we have had 323 visitors, 1,467 page views and 149 comments! We also know that at least one other school apart from Colby is looking at our blog to learn about Colombia. It is a school in Scotland and we don't even know the children there. We think this is really awesome because now we know that our blog is useful not only to Colby but to other schools too – 'hola' to our readers in Scotland!
The other thing that is so incredible is that we can see all the different places where people are reading the blog. We have a map and every time someone looks at our blog, the country they are from goes blue! And it keeps getting darker and darker blue the more people look at it in that country. So, England is very, very dark blue by now and Colombia is dark blue too.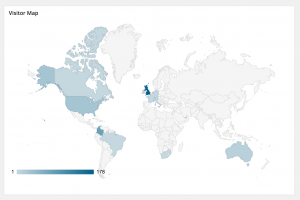 Here is a list of countries that are blue so far:
Europe: UK, France, The Netherlands, Germany, Italy, Switzerland
Middle East: United Arab Emirates, Qatar
Americas: USA, Canada, Colombia, Brazil
Africa: South Africa
Australasia: Australia.
Isn't that brilliant! We are world famous now!
Our top 4 countries for readers are UK (178 readers), Colombia (78 readers), USA (23 readers) and Australia (12).
Now we have a mission for you! If you know anyone who is in another country please tell them about the blog because we would love to see more countries on our map going blue (especially Russia, China or India because they are so big, or Africa as we only have one country there so far)! Please send them our blog address www.everettsincolombia.co.uk and tell them to take a look!
If you give someone the address, don't forgot to write a comment below saying you've done it and then we can tell you when that country goes blue (or bluer) on the map.
Thank you very much for your help!